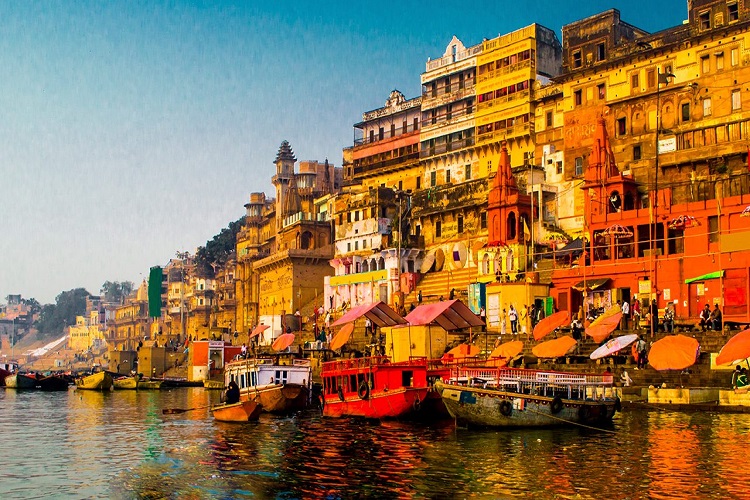 Varanasi, the oldest city in the universe
The incredible Varanasi is a world apart, located on the banks of the Ganges River. It is a dare for reason, for the comprehension and for the morbid. It is chaos, spirituality and karma. It is a unique, unbridled and picturesque city. Perhaps that is why he earned the reputation of being the city that Shiva created for him.
For Hinduism, it is the oldest city in the universe. For travel guides, an inevitable stop on any itinerary in India.
It is one of the 7 cities to practice Hinduism and for centuries it receives thousands of souls a day. From many parts of the world they are received in this beautiful place for the sacred bath in the Ganges and thus clear their karma, Varanasi is a colorful and spiritual city. In their different places we can find various people with their stalls, flower offerings, clothes, cows, cha stalls and western restaurants for being part of a religious place, there are several foods that are prohibited. Nor will you be surprised to get lost again and again among the labyrinthine streets of the ancient city.
Let yourself be infected by mysticism. Do not judge; do not seek to understand the unintelligible life cycle. Take a deep breath and Namaste
The best times of the year to go to this beautiful place
One of the best times to go is from October to March, you may wonder why October to March is the best time to visit Varanasi? Pay close attention to the following information that I will tell you:
It is the most pleasant weather in northern India
It is the moment where one can enjoy all the climates of India spring, summer, rain and autumn
Most festivals of Hinduism, Buddhism, Jainism and even Islam fall between October and March, and most of the festivals
Most cultural events and shows (Sankat Mochan Sangeet Samorah, Nakkataiyya, and Ramlila) are organized during that period
Most ritual traditions are organized in that period
What to do and see in Varanasi?
Early morning a boat ride along the bank of the Ganges: At sunrise it is the best way to understand the sacred dimension of the river and its liturgy. Many devotees perform their ritual baths or simply clean and wash their clothes.
The aarti at sunset:The ritual in honor of the goddess Ganga is celebrated every day and is what needs to be done in Varanasi at sunset.
Visits to temples: From the elusive golden temple Kashi Vishwanath, banned for non-Hindus and who will only see the dome between the alleys, the Hanuman temple occupied by the monkeys
He attends cremations in the ghat of Manikarnika: In Varanasi death is also lived daily. You will find the two cremation Ghats. An ancestral practice where the public does not bother as long as there is due respect.
Walk along the Ghats: You will often want to visit them all, under the imposing architecture of the now abandoned palace facades, but remember that the best way to get to know them is to sit for a while and get fresh air and let Varanasi pass your eyes before.
Attend an Indian classical music concert or take an instrument classes: In Varanasi, what abounds are the concert offers and restaurants that offer dinners with a pleasant musical accompaniment. If you want to go one step further and have a few days to do so, you can venture to see Bansuri classes, sitar or board or any other traditional instrument.
Buy a sari:If you have a good reputation for something Varanasi is because of its silk, being therefore the ideal place to buy a sari or, much more practical for our daily life some scarves, sheets among other wonders.
Practicing yoga:Following the line of the previous point, the offer of yoga classes is overwhelming, although on this occasion women should be careful who to receive them, since also by the breadth of the offers we can be scammed.
Excursion to Sarnath: 10 kilometers from Varanasi, very easy to reach by public transport, is in Sarnath: the place where Buddha gave his first sermon son in 528 BC after reaching enlightenment in Bodhgaya. Considered for this one of the four holy cities of Buddhism.
Hotels near Varanasi
I will make a short list about my favorite hotels in Varanasi, I hope you will take them into account and they are the following:
Places to enjoy Varanasi's exquisite food
Although Varanasi stands out apart from its fabrics it is in the good season of its meals and the following restaurants are not far behind:
Coffee Dosa:Address: D15 / 49 Near Maan Mandir Dashashwamedh Ghat, Varanasi, and Uttar Pradesh 221001, India.
Varanasi Cafe & Restaurant:Address: D23 / 10 Bangali tola Road, Bangali Tola, Hathi Phathak, Varanasi, Uttar Pradesh 221001, India.
Pizzeria Vatika Cafe: Address: B-1/178, Assi Ghat Rd, Shivala, Varanasi, Uttar Pradesh 221005, India.
Canton Royale Restaurant:Address: S.20 / 51, Hotel surya, A-5, The Mall Road, Cantt, Varanasi, Uttar Pradesh 221002, India
How to get to Varanasi and know how to move
Varanasi is a wonderful city that is located on the banks of the Ganges River in the state of Uttar Pradesh India, 320 kilometers southwest of the state capital, Lucknow, and 121 kilometers east of Allahabad. There are several ways to get there by train, bus and plane.
By train:There are many railway services that arrive in Varanasi, including the Rajdhani Express or Vibhuti Express, from New Delhi or Calcutta
By bus:Through Yatra.com it is possible to book bus tickets to Varanasi from cities like New Delhi
By plane:If you travel by plane you will land at Lal Bahadur Shastri airport, located 25 kilometers from the city center
By car:Benares is very well connected by roads from different regions of India, from the north and the border with Nepal arrive roads 24 and 28 among others
But how to know how to move around Varanasi?
Public transport:Although it is a bit chaotic, transport is a simple way to enjoy the beautiful landscape and have a practical and simple way to see them
Taxi:Taxis are mobilized throughout Benares, if you want something cooler and more comfortable than better way than taxis that can provide good service
Car:Those who wish to make different excursions from Varanasi, or approach comfortably from the airport, can rent a car, even at the air terminal.